Theatre Organist's Secrets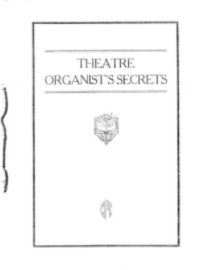 Theatre Organist's Secrets
This is a funny resource, not that useful for learning to improvise, but interesting and inspiring for theatre improvisation.
It collects many effects that organists in the cinema would have used. As you may be aware, in the silent picture era, an organist would accompany the films. Some films may have had a score, but most organists would have improvised.
This little manual suggests how certain real life sounds could be imitated on the organ. The idea of imitating real life already existed in the 17th century, for example in H. I. von Biber's Musica Representativa. This could be used in improvisations for comic relief or when asking the audience for themes, translating certain ideas literally.
Features
Imitation of sounds, cinema organ improvising, film, theatre