The Improvising Mind | Cognition and Creativity in the Musical Moment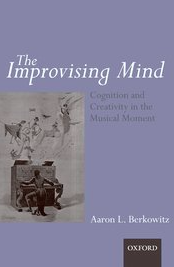 The Improvising Mind | Cognition and Creativity in the Musical Moment
From the publisher's website:
The ability to improvise represents one of the highest levels of musical achievement. An improviser must master a musical language to such a degree as to be able to spontaneously invent stylistically idiomatic compositions on the spot. This feat is one of the pinnacles of human creativity, and yet its cognitive basis is not completely understood. What musical knowledge is required for improvisation? How does a musician learn to improvise? How is this knowledge used in performance? What are the neural correlates of improvised performance?
In 'The Improvising Mind', these questions are explored through an interdisciplinary approach that draws on cognitive neuroscience, the study of historical pedagogical treatises on improvisation, interviews with improvisers, and musical analysis of improvised performances. Findings from these treatises and interviews are discussed from the perspective of cognitive psychological theories of learning, memory, and expertise.
Musical improvisation has often been compared to 'speaking a musical language'. While past research has focused on comparisons of music and language perception, few have dealt with the music - language comparison in the performance domain. In this book, learning to improvise is compared with language acquisition, and improvised performance is compared with spontaneous speech from both theoretical and neurobiological perspectives.
Tackling a topic that has hitherto received little attention,The Improvising Mind is a valuable addition to the literature in music cognition. This book will be of interest to musicologists, music theorists, cognitive neuroscientists and psychologists, musicians, music educators, and anyone with an interest in creativity.
Prelude
1:Introduction
Part I; Cognition and the Pedagogy and Learning of Improvisation2:The pedagogy of improvisation I: Improvisation treatises of mid-eighteenth and early nineteenth centuries
3:The pedagogy of improvisation II: Pedagogical strategies
4:Learning to improvise; Learners' perspectives
5:Music and language cognition compared I: Acquisition
Part II: Cognition in Improvised Performance
6:Improvised performance: Performers' perspectives
7:The neurobiology of improvisation
8:Music and language compared II; Production
9:Cadenza
Coda: Constraints and freedom; Improvisation in music, language, and nature
Bibliography
Index
Features
Music Cognition, Pedagogy, Performer's perspective