Steal like an Artist from Bach's Allemande BWV 1013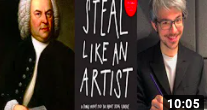 Steal like an Artist from Bach's Allemande BWV 1013
What can we learn from Austin Kleon's book Steal Like an Artist for our improvisations? Stealing is very much part of classical music's history: using Johann Sebastian Bach's Flute Partita's Allemande we try to show different approaches to stealing, including a sighting of Astor Piazzolla and the St Matthew Passion!
With wonderful quotations from Pablo Picasso, Wilson Mizner, Conan O'Brien, André Gide and Salvador Dalí
And how do Ton Koopman and Gustav Leonhardt feature in all this?!
Features
Form / Genre (as inspiration) / Satzlehre Harmony Motif Partimento Pedagogy Suite (ouverture and dance movements)