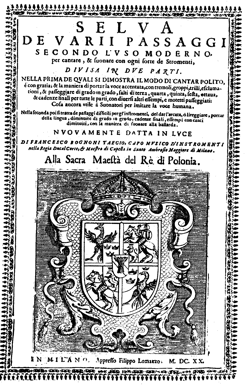 Selva de Varii Passaggi
Like many of its contemporary sources it uses an example of two notes (an interval) and then shows how you could use an ornament to go from one note to the next. In a type of table-format the book suggests several options for the same interval; by learning those by heart you get a sense for the style and possibilities.
It also contains written out examples of how to actually use these ornament on an entire piece. Example pieces are popular contemporary madrigals and motets.
A translation can be found here:
https://www.uco.edu/cfad/files/music/rognoni-selva.pdf
Features
Diminution, Diminutions, Passaggi, Ornamentation