Ornamentation in Baroque and Post-Baroque Music, with Special Emphasis on J.S. Bach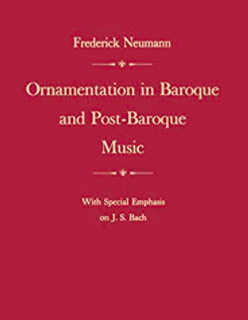 Ornamentation in Baroque and Post-Baroque Music, with Special Emphasis on J.S. Bach
Fascinating read even if some of the information is a little outdated, still a great collection of materials.
Ornaments play an enormous role in the music of the seventeenth and eighteenth centuries, and ambiguities in their notation (as well as their frequent omission in the score) have left doubt as to how composers intended them to be interpreted. Frederick Neumann, himself a violinist and conductor, questions the validity of the rigid principles applied to their performance. In this controversial work, available for the first time in paperback, he argues that strict constraints are inconsistent with the freedom enjoyed by musicians of the period.
The author takes an entirely new look at ornamentation, and particularly that of J. S. Bach. He draws on extensive research in England, France, Germany, Italy, and the United States to show that prevailing interpretations are based on inadequate evidence. These restrictive interpretations have been far-reaching in their effect on style. By questioning them, this work continues to stimulate a reorientation in our understanding of Baroque and post-Baroque music.
Features
Accent / Accento Acciaccatura Appoggiatura (port de voix) Chûte Coulé Grace-note Groppetti/groppo Mordent (battement) Slide (port de voix double) Trill Turn Vibrato and Flattement