Ornamentation and Improvisation in Mozart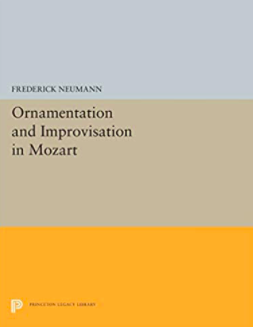 Ornamentation and Improvisation in Mozart
Still the only comprehensive book on this subject.
This book is a sequel to Frederick Neumann's Ornamentation in Baroque and Post-Baroque Music, With Special Emphasis on J.S. Bach (Princeton, 1978). In the present volume, the first work on this subject for Mozart's music, the author continues his important contributions to the search for historically correct performance practices, and to the liberation of the performer from improperly conceived and overly restrictive interpretation of musical scores. The first part of this book attempts to free ornamentation in Mozart from rigorism that has resulted from confusing the pure abstraction of ornament tables with concrete musical situations. The second part deals with pitches that were not written in the score yet often intended to be added when Mozart left "white spots" in his notation. These additions range from single notes to lengthy cadenzas. The problem addressed is the question of where such additions are possible or necessary and how they might best be designed.
Professor Neumann draws on an immense knowledge of the literature written during Mozart's time and on his own comprehension of the subtleties of Mozart's music and musical styles. Refusing to interpret the sources dogmatically, he frees performers of Mozart from the rigid princples too often imposed by modern scholars.
Frederick Neumann is Professor of Music Emeritus at the University of Richmond.
Features
Appoggiatura (port de voix) Arpeggio Grace-note Slide (port de voix double) Trill Turn
Cadenza (point d'orgue) (solo flourish) Ornamentation