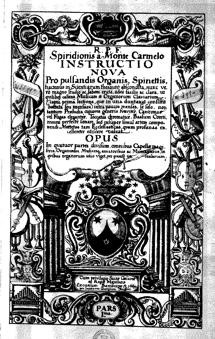 Nova Instructio
A modern edition can be found here (parts 3 and 4 are in a separate book):
https://www.stretta-music.com/en/spiridionisamontecarmelo-bellotti-nova-instructio-pars-1-e-2-nr-691940.html
Preface of the book:
"" SPIRIDION a Monte Carmelo / New and hitherto unknown instruction / How one may not only completely attain in a short time, consummate skill in organ and keyboard-playing but also in the art of composition; thus easy and clear, so that whoever understands music and the keyboard and comprends well the first lesson (which can be grasped in only a measure or battuta) can thereafter by himself play diverse preludes, canzonas or fugues, toccatas, and thorough-bass in a few months  without any difficulty, and can fully master and practice the art of composition / Divided in Four Parts / Highly necessary to all choirmasters, organists, and lovers of music, as well as monasteries which use the organ. / First Part Bamberg / Printed in the princely press by Johann Jacob Immel / In the year 1670.""
From the seller's website:
"The attention to the work of Spiridione is the result of a renewed interest in the practice of organ improvisation and more in general, in the didactic methods and pedagogic criteria that formed the basis of the theoretical and practical education of an organist.
The present volume dedicated to the method of the German monk wishes to provide a valuable historic source not only to those who cultivate a specific interest in this field but also to students and church organists who may find useful ideas therein relative to their studies and activity.
We would like to underline the fact that the musical education of Spiridione took a decisive turn in the years of his sojourn in Rome from 1643 to 1655."
Features
Prelude, Canzona, Fugue, Toccata and Thorough-bass