Improvising | How to master the art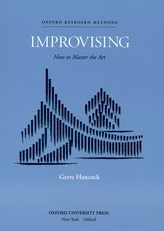 Improvising | How to master the art
I haven't looked at this in great detail yet, but I like the way it starts with looking at phrase as a building block and the exercises in that section have been useful to me in my teaching (Robert).
From the editor's page:
"This workbook is a compendium of exercises and advice that will lead the student towards effective improvisation. It starts from the premise that improvising must be analysed, planned, and practised carefully and systematically. Its style is informal and encouraging, and the numerous lively exercises are clearly explained."
Introduction
The Scale
The Phrase
The Interlude
The Hymn
The Ornamented Hymn
The Hymn Prelude
The Song Form
The Sonata Form
The Toccata
The Canon
The Duo and The Trio
The Fugue
Coda
Bibliography
Features
Phrase, Interlude, Hymn, Ornamentation, Prelude, Song Form, Sonata Form, Toccata, Canon, Duo, Trio, Fugue
Renaissance Baroque Classical Romantic 20th Century