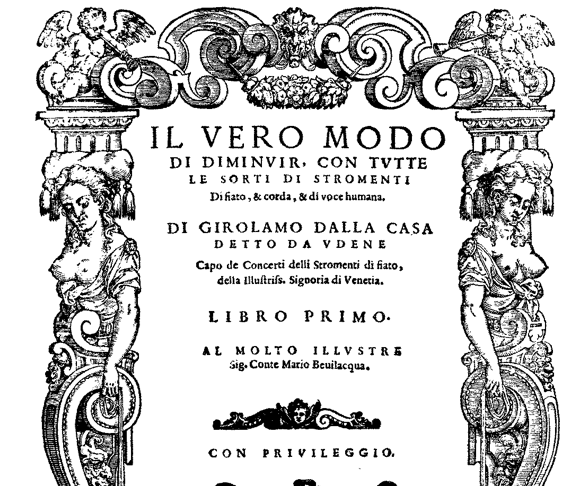 Il vero modo di diminuir
Like many of its contemporary sources it uses an example of two notes (an interval) and then shows how you could use an ornament to go from one note to the next. In a type of table-format the book suggests several options for the same interval; by learning those by heart you get a sense for the style and possibilities.
It uses an interesting pedagogical build up based on different rhythmical note values.
"In the first book, then, issues of tonguing are treated and of simple diminutions of eighth-notes on whole-notes and half-notes. One begins first stepwise note by note and then by thirds and fourths and fifths and sixths and sevenths and octaves. Following them is the diminution of sixteenth-notes on the same examples."
The first diminutions are shown with tonguing possibilities and going up a scale in slow values.

Examples are given to fill up both whole notes and half notes. This is the example for a third:

Then the ornament groppo is discussed.

Then several examples follow of applying these figures on popular vocal polyphonic pieces of the time. First Dalla Casa gives part of the original melody and then a melody in 8th notes.

Then follow examples in 16th notes using the same principle.
Then examples follow of the same melody shown in both 8th notes and thereafter in 16th notes.
The method is then built up with ever faster note values, finally showing a 'mixed style', mixing the different speeds.
Book two contains written out examples of how to actually use these ornament on an entire piece. Example pieces are popular contemporary madrigals and motets.
In the introduction Dalla Casa warns the reader about keeping the rhythm steady and being aware of the subdivisions between 8ths, 16ths, etc.
An exceptional example is the one where diminutions run in four different voices, whereas usually diminutions are only the top part, bass part or perhaps alla bastarda, where one player chooses a mix of bits of different parts to make a new part and put ornaments on.
There is not much text, as with many of this type of treatise. But here is an English translation for the bits of text that are there:
https://www.uco.edu/cfad/files/music/casa-vero-modo.pdf
Features
Diminution (up to 1620) Patterns Pedagogy
Passaggi, ornamentation, cadenze, diminutions