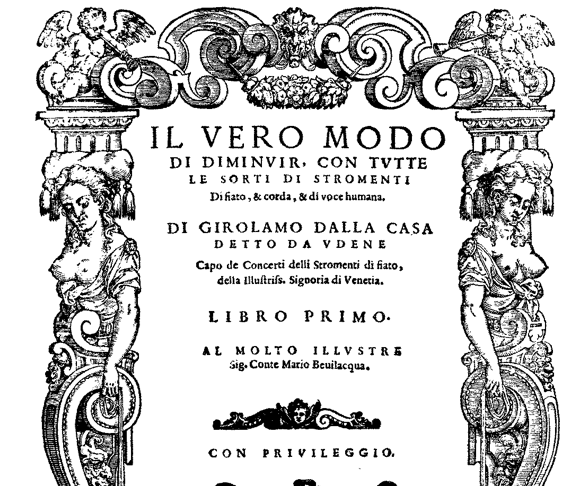 Il vero modo di diminuir
Book one contains possible ornaments. Like many of its contemporary sources it uses an example of two notes (an interval) and then shows how you could use an ornament to go from one note to the next. In a type of table-format the book suggests several options for the same interval; by learning those by heart you get a sense for the style and possibilities.
Book two contains written out examples of how to actually use these ornament on an entire piece. Example pieces are popular contemporary madrigals and motets.
An exceptional example is the one where diminutions run in four different voices, whereas usually diminutions are only the top part, bass part or perhaps alla bastarda, where one player chooses a mix of bits of different parts to make a new part and put ornaments on.
There is not much text, as with many of this type of treatise. But here is an English translation for the bits of text that are there:
https://www.uco.edu/cfad/files/music/casa-vero-modo.pdf
Passaggi, ornamentation, cadenze, diminutions