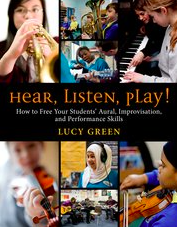 Hear, Listen, Play!
Still going through this, but on first look this looks interesting!
From the publisher's website:
"Hear, Listen, Play! is a book for all music teachers who are curious about the worlds of ear-playing, informal learning, improvisation, and vernacular music. Starting with a discussion of how popular musicians learn in the informal realm, the book then applies many aspects of their learning practices to three main areas within music education. It first tackles one-to-one specialist instrumental lessons before turning to ensemble work such as band and orchestra and finally to the generalist or specialist classroom. The methods within each section have been systematically tried and tested in research projects spanning more than a decade, and delivered here in a book written in straightforward and direct language which teachers will quickly find applicable to their working lives. Vignettes from the research participants provide depth throughout the book, and give illustrations of how both teachers and learners have experienced the methods themselves.
This book is not a prescription for one particular way of teaching or learning, and it does not aim to critique, replace or change the excellent practices that are already on-going in the diverse world of music education and pedagogy. Rather, it offers something which is likely to be new to many teachers, and which they can add in to the mix."
Acknowledgements
NOTE ON THE TEXT
NOTE ON THE COMPANION WEBSITE
Introduction
How could informal learning practices relate to formal music education?
The organisation and use of the Handbook
The audio materials: an overview
Why informal learning?
Why popular music?
How do popular musicians learn?
PART I: HeLP in instrumental settings
Introduction
HeLP in instrumental settings: preliminary practicalities
HeLP in instrumental settings: the basic steps
Some possible combinations and orders of stages: instrumental tuition
How are students likely to respond?
Teaching strategies: the role of the teacher in instrumental settings
What were the overall views of the participants?
PART II: HeLP in ensemble settings: bands, orchestras and other groups
Introduction
HeLP in ensemble settings: preliminary practicalities
HeLP in ensemble settings: the basic steps
How are students likely to respond?
Teaching strategies: the role of the teacher in HeLP ensemble settings
What were the overall views of the participants?
PART III: HeLP in classroom settings
Introduction
HeLP in classroom settings: preliminary practicalities
HeLP in classroom settings: the basic steps
Some possible combinations and orders of stages: the classroom context
How are students likely to respond?
Teaching strategies: the role of the teacher in HeLP classroom settings
What were the overall views of the participants?
Appendices
Appendix A: Findings from an aural test experiment
Appendix B: The research lying behind this Handbook
Appendix C: Related work on informal music learning and formal music education
Appendix D: Websites
Appendix E: Audio track list
Appendix F: Recording credits
Features
Classical Free / Idiomatic Cross-over