First lessons in extemporizing on the organ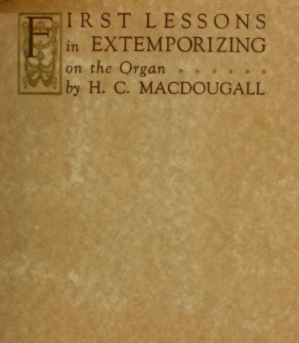 First lessons in extemporizing on the organ
This treatise stresses that hard work is most important when learning to improvise, always good!
It starts off with a sort of aptitude test, which is quite funny.
Generally it seems to be a very clear instruction book, but it does assume you already have some knowledge of how harmony works.
Starting from accompanying songs you know, it builds up from 4 bar forms to larger forms and eventually reaches a small intro to Fugue. It also has several musical examples in notation.
Features
Hamilton Crawford Macdougall
Phrase, Hymn, Accompaniment, Song form, 4-part improvising, general schemes, fugato