Die Kunst der Improvisation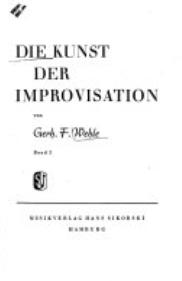 Die Kunst der Improvisation
2 volumes in German about counterpoint, modulation, motivic development and more with relation to stylistic improvisation.
Die Kunst der Improvisation. Die technischen Grundlagen zum stilgerechten, künstlerischen Improvisieren nach den Grundprinzipien des Klaviersatzes unter besonderer Berücksichtigung des Volksliedes ausführlich erläutert. 2 Bde. I. Teil: Die Harmonielehre im Klaviersatz; II. Teil: Die höhere Kompositionstechnik im Klaviersatz.
There are some second hand versions floating around.
Counterpoint, Harmony, Modulation, Motif

Counterpoint, Modulation, Motivic Development

Baroque, Classical, Romantic