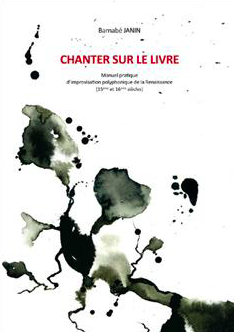 Chanter sur le livre
A wonderful resource, which even with Basic French is understandable. Simple instructions and musical notation show how to improvise a huge variety of renaissance improvisatory contrapuntal forms. Although some of the ideas are difficult, the canons and gymel could be done as a beginner.
Chanter sur le Livre, à la Renaissance, c'est ajouter une ou plusieurs voix à une mélodie écrite, le cantus firmus. Autour de cette mélodie, qu'elle soit de plain-chant, de chanson, de psaume, etc., les chanteurs improvisent d'autres lignes, en créant le contrepoint sur le vif.
Du gymel (à 2 voix) en passant par le faux-bourdon (à 3 voix) et jusqu'aux contrepoints à 4 et 5 voix, ce manuel pratique explore méthodiquement les différentes techniques d'improvisation sur cantus firmus... ou sans cantus firmus, comme les canons à 2 et 3 voix.
Pour chaque technique, des consignes précises illustrées d'exemples musicaux sont données pour improviser les différentes voix. Des conseils de travail et des exercices préparatoires viennent guider les apprentis dans leur progression.
Dans la deuxième partie de ce livre, un recueil de mélodies, tirées de la musique sacrée (antiennes, hymnes, psaumes) aussi bien que profane (chansons, carols, laudes) permettra à chacun de mettre en application les techniques d'improvisation proposées. Une large place est faite aux belles mélodies des chansonniers des 15e et 16e siècles (Bayeux, Palacio, Chardavoine, Lochamer Liederbuch).
Cet ouvrage s'adresse à tous, musiciens amateurs, enseignants et professionnels, chanteurs aussi bien qu'instrumentistes. Chacun y glanera, au gré des différents chapitres, les conseils qui lui conviennent, selon ses aptitudes et ses envies. On pourra également se servir de ce livre comme outil d'initiation à l'arrangement et à l'écriture dans le style de la Renaissance.
Features
Canon Cantare Super Librum Counterpoint Diminution (up to 1620) Gymel Patterns
Canon (2 and 3 voices), Gymel, Counterpoint (2-5 voices), basics of diminution and melody