The Ornamentation of Baroque Music: A Guide for Independent Embellishing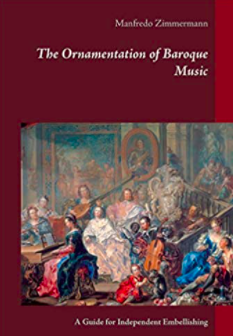 The Ornamentation of Baroque Music: A Guide for Independent Embellishing
Also available as E-book and includes some wonderful accompaniment tracks. Also available in German.
Zimmermann gives clear instructions coming from historical sources but also with his own ideas for practising these in the modern classroom.
"Everything you want to know about embellishing Music of the Baroque Era is taught systematically and well-founded here: from the different "essential ornaments" such as trill, mordent, appoggiatura, slide, etc. up to the free melodic ornaments, cadenzas and improvised grounds. In addition, you will find valuable information, tips, constructive exercises, historical examples and much more. Exclusively you get a live recorded harpsichord-basso continuo accompaniment for all exercises, which supports you harmonically and rhythmically. For pupils, students, amateurs and professional musicians."
Features
Accent / Accento Appoggiatura (port de voix) Chûte Mordent (battement) Rubato & inégalité (time flexibility) Slide (port de voix double) Trill Turn Vibrato and Flattement
Cadenza (point d'orgue) (solo flourish) Ground Bass / Ostinato Ornamentation
essential ornaments, grounds, free ornamentation, cadenzas