FOMU dance workshop 2017 3
Improvising for Rachel's dance workshop day 3 – Balletto detto L'Alemana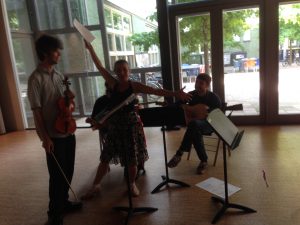 At the Festival Oude Muziek Utrecht The Scroll Ensemble joins Rachel Farr for her dance workshops. The Scroll Ensemble is perfectly fitted to this task, since dance musicians often improvised on the music for the dancers, or even all the music. Many dance pieces were consequently also favourite improvisation standards and vice versa, many improvisation favourites had titles to do with dancing, such as the "Ballo del Gran Duca" (Ballo meaning dance).
In the following we present a playlist of the music. Sometimes we have also found links so you can listen to a version of the music! We are always happy with your support (find out here about the many ways you can support us) or your comments.
Day 1 – Basse Danse
Day 2 – Allemande (click here to go to day 2)
Day 3 – Balletto detto l'Alemana (click here to go to day 3)
Nun Komm der Heiden Heiland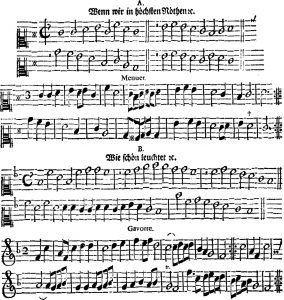 Like on day 1 we use a chorale melody as our inspiration. This can take many forms. Nun Komm der Heiden Heiland is the introductory improvisation to our programme which illuminates Bach's creative processes by improvising new inventions!
Below you can hear a fragment of what this may sound like from a live recording in the Mauritshuis, The Hague.
In the opening movement of this cantata Bach manages to present the chorale in different instruments in different ways.
The next pieces are repeated from earlier days: An Wasserflüssen Babylon (our theme for this FOMU) and Ballo del Gran Duca (day 2)
Balletto detto L'Alemana d'Amore – Cesare Negri
The Hapsburgs also influenced Northern Italy. From Italy we can find more descriptions of dancing than from Germany. For example, Cesare Negri's "Le Grazie Amore". Cesare was a dancing master from Milan and his book is dedicated to Phillip III.
In this book he describes a dance with the title "Baletto L'Alemana". Whether this is related to an actual German dance is hard to know. It seems like each country (and even each artist) had his or her own interpretation of the Deutscher Tanz.
As mentioned before, the difficulty here is that Negri describes the dance in prose and then prints the melody separately below. It's therefore hard to know how exactly the music and the dance related to each other. Interestingly, that means that each dancer now can find his or her own version of it. For The Scroll Ensemble, this relates a lot to their approach to music making.
The music for lute can be found here.
Cornel van Shmelt's Division
This piece is part of a collection by John Playford called the Division Violin. We use this collection as a source of inspiration for our English Pub music programme. The collection is also a fascinating view of what people thought of as written down improvisations at the time. The collection is aimed at amateur musicians so they can either learn the samples by heart to show off with, or learn from playing the samples how to make their own diminutions. Evidently, it was something that amateur musicians wished to learn!
Although the name "Cornel van Shmelt" seems obviously Dutch or Flemish, we have no idea who he is. Some have suggested it was even a pseudonym. Interestingly, we find this piece back in a different version in a library in Upsalla, where it is part of the "Düben" collection. This German collection includes this piece with an Italian title, referring to it as a chorale melody with 7 variations by "Signor William Brade", who in fact was an English composer! Music travelled a lot in the Baroque! Even more interesting is that the Düben collection's version has more variations so finding it for us was a big win!
Look at William Brade's piece in the Düben Collection here.
Have a listen here to a recording made by our colleagues: