Musical terms as improvisation inspiration | J N Hummel's Ausfürlich Anweisung zum Piano-Forte Spiel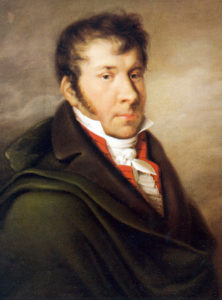 Throughout history composers starting adding more and more intricate words and descriptions to give a general indication of the character of a piece of music.
For us improvisers this can be really inspiring. You might have forgotten you could play your next improvisation ponticello, or bruscamente. We are hoping to compile lists here of specific character words that are applicable to specific composers or periods. For now we have taken the following list from Johann Nepomuk Hummel's Ausführlich theoretisch-practische Anweisung zum Piano-Forte Spiel from 1828. This is in relation to our Beethoven series about improvising variations: in our first video we use simple starting ideas for your first step in improvising variations. For more improvisation videos subscribe on YouTube.
Would you like to give us the time to do more of this or hear us improvise or even learn along with us? Support us on Patreon and follow our progress 🙂 !
Hummel's descriptive musical terms
| Italian Term | Hummel's translation | Our translation to English | Example in Hummel's music |
| --- | --- | --- | --- |
| Grave | Schwerfällig ernst | Ponderous serious | Piano Sonata in A flat, Op. 92a I. Grave |
| Largo | gedehnt abgemessen | broadly measured | Piano quintet op. 87 in E-flat minor, III. Largo |
| Larghetto | weniger langsam, doch etwas gezogen | less slow, but slightly pulled/dragged | Piano Concerto No. 3 in B minor, Op. 89, II. Larghetto |
| Lento | gleichsam ermattet | quasi tired/languished | Fantasy for Piano in E flat Major op. 18 (1805) - I. Lento |
| Lento sostenuto | gezogen, gleichsam ermattet getragen | quasi tired/languished, supported/carried | Etude. Adagio Sostenuto |
| Adagio | langsam, aber seelenvoll | slow, but soulful | Adagio variationen und rondo op 78. I. Adagio |
| Andantino | etwas gehend | somewhat going/moving | Piano Sonata: Andantino |
| Andante | fortschreitend, gehend | moving forward, going | Trumpet Concerto in E-Flat Major: II. Andante |
| Andante maestoso | fortschreitend, gehend, majestätisch | moving, majestic | Ballet 'Sappho von Mitilene', Op. 68, X. Suite 9. Andante maestoso |
| Andante non troppo | fortschreitend, gehend, nicht zu sehr | not too much moving | |
| Andante affettuoso | fortschreitend, gehend, gerührt | moving, touched or stirred | |
| Andante grazioso | fortschreitend, gehend, gefällig | moving, appealing, graceful | Piano Trio in G major, Op.65 - 2. Andante grazioso |
| Andante pastorale | fortschreitend, gehend, ländlich | moving, rural | Sonata for Flute and Piano in D major Op. 50 mov 3 - Rondo Pastorale |
| Andante con moto | fortschreitend, gehend, etwas bewegt | a bit more moving | Concerto for piano, violin & orchestra in G major, Op. 17, II. Andante con moto |
| Allegretto | etwas munter, leicht und anmuthig | somewhat lively, light and graceful | Piano Sonata No. 8 in A-Flat Major: III. Allegretto |
| Allegro | munter und lebhaft | bright and vivacious | 24 Etudes pour le pianoforte, op. 125 (1834?), I. Allegro |
| Allegro maestoso | munter und lebhaft, aber erhaben | bright and vivacious, but elevated | Concerto for Piano and Orchestra in B minor, Op. 89. I. Allegro maestoso |
| Allegro moderato | munter und lebhaft, aber mässig | bright and vivacious, but moderately | Piano Concerto in A-minor, Op.85 (1816) I. Allegro Moderato |
| Allegro giusto | munter und lebhaft, aber nach Maassgabe des Charakters des Stücks | bright and vivacious, but according to the meter of the composition | |
| Allegro un poco | munter und lebhaft, aber ein wenig | bright and vivacious, but a little | |
| Allegro non troppo | munter und lebhaft, aber nicht zu sehr | bright and vivacious, but not too much | Piano Sonata No. 6 in D Major, Op. 106: II. Allegro ma non troppo, "Un scherzo all'antico" |
| Allegro comodo | munter und lebhaft, aber gemächlich | bright and vivacious, but unhurried, leisurely | 24 Etudes, Op. 125: X Allegro Comodo |
| Allegro con moto | munter und lebhaft, aber mit mehr Bewegung | bright and vivacious, but with more movement | Trio for Piano, Violin & Cello in E flat major. Op. 93 |
| Allegro con brio (brillante) | munter und lebhaft, aber hervorstechend | bright and vivacious, but striking, brilliant | Septet in C-major, Op.114 "The Military". I. Allegro con Brio |
| Allegro con spirito (spiritoso) | munter und lebhaft, aber geistvoll | bright and vivacious, but spirited | Piano Sonata No. 9 in C Major: I. Allegro con spirito |
| Allegro con fuoco | munter und lebhaft, aber feurig | bright and vivacious, but fiery | Piano quintet op. 87 in E-flat minor, Hausmusik |
| Allegro vivace | munter und lebhaft, aber mit mehr Lebhaftighkeit | bright and vivacious, but with more liveliness | Cello Sonata in A Major, Op. 104: III. Rondo: Allegro vivace un poco |
| Allegro agitato | munter und lebhaft, aber ängstlich bewegt | bright and vivacious, but anxiously moving | Piano Quintet, Allegro Agitato |
| Allegro furioso | munter und lebhaft, aber ungestüm, wild | bright and vivacious, but boisterous, wild | |
| Vivacissimo | sehr lebhaft und feurig | very lively and fiery | Johann Nepomuk Hummel - Piano Concerto No. 3, Op. 89 (1819) III. Finale. Vivace |
| Presto | noch schneller und flüchtiger | even faster and volatile | Hummel: Piano Trio in E flat, Op.12 - 3rd movement: Presto |
| Prestissimo | so schnell und flüchtig wie möglich | as fast and volatile as possible | Piano Sonata No. 4 in C Major, Op. 38: III. Finale. Prestissimo |
| Tempo di Menuetto | im Menuettenschritt, gemässigt | like a minuet, moderate | Hummel: Piano Trio in G major, Op.35 - 2. Tempo di Menuetto |
| Alla Polaca | im Polanisenschritt, noch etwas gemässigter | like a Polonaise, even more moderately | Adagio and Rondo alla Polacca for Violin and Orchestra in A major |
| Alla Siciliana | dem sizilianischen Schäfertanz ähnlich, pastoralartig | like the Sicilian shepherd dance, pastoral-like | Grande Sonata for mandolin and fortepiano, Op. 37a Andanta alla Siciliana |
| molto | viel | much | |
| assai | sehr | very | |
Hummel: words applying to a section of the composition
| | | | |
| --- | --- | --- | --- |
| Marcato | schärfer bezeichnet, stärker hervorgehoben | sharper designation, more emphasis | Piano Septet No. 1 in D minor, Op. 74 |
| Decrescendo | abnehmend | decreasing | |
| calando | beruhigend | calming, comforting | Johann Nepomuk Hummel - Piano Concerto No. 3, Op. 89 (1819) |
| diminuendo | vermindernd | diminishing | |
| perdendosi | sich verlierend (verminderung der Stärke) | petering out, losing oneself (diminishing of loudness) | Piano Septet No. 1 in D minor, Op. 74 |
| Smorzando | verlöschend (verminderung der Stärke) | extinguishing (diminishing of loudness) | Johann Nepomuk Hummel - Piano Concerto, Op. Posth.1 (1833) |
| Ritardando | zurückhaltend (Verminderung der Stärke, zugleich immer langsamer werdende Bewegung im Zeitmass) | restrained (reduction of strength, at the same time slower and slower movement in time) | Johann Nepomuk Hummel - Piano Concerto No. 3, Op. 89 (1819) |
| Rallentando | verzögernd (Verminderung der Stärke, zugleich immer langsamer werdende Bewegung im Zeitmass) | delaying (diminishing loudness, at the same time decrease in tempo) | Johann Nepomuk Hummel - Piano Concerto No. 3, Op. 89 (1819) |
| Morendo | absterbend (Verminderung der Stärke, zugleich immer langsamer werdende Bewegung im Zeitmass) | dying (diminishing loudness, at the same time decrease in tempo) | Johann Nepomuk Hummel - Piano Concerto No. 3, Op. 89 (1819) |
Hummel: Character words both at the beginning and in the middle of the piece
| | | | |
| --- | --- | --- | --- |
| mesto, lugubre | traurig, düster | sad, gloomy | String Quartet no. 1 in C major op. 30 no. 1 Adagio e Mesto |
| patetico | feierlich, ernst | fiery, serious | Hungarian Dances, Op. 23: Ballo Patetico |
| con dolore | mit Wemuth | with woe | Rondo con Grazia: in the minor section (score) |
| languido | seufzend, schmachtend | sighing, yearning | score of Violin sonata op.5 no2 in the second movement |
| con anima | seelenvoll | soulful | 24 Preludes for Piano,Op.67, no. 17 |
| cantabile | gesangvoll | singing, vocal | Sonata Op. 5 No. 3 for Viola, II. Adagio Cantabile |
| espressivo oder con espressione | ausdrucksvoll oder mit Empfindung | expressive or with sentiment | Johann Nepomuk Hummel - Piano Concerto No. 3, Op. 89 (1819) |
| dolce oder con dolcezza | sanft oder mit Sanftmuth | gently or with gentleness | Johann Nepomuk Hummel - Piano Concerto No. 3, Op. 89 (1819) |
| arioso | sangbar | singable | |
| amabile | lieblich | lovely, sweet | Sonata op. 104 no. 3 I Allegro amabile e grazioso |
| con tenerezza | zärtlich, schmeichelnd | affectionate, flattering | |
| innocente | unschuldig, anspruchslos | innocent, undemanding | |
| con grazia | anmuthig | graceful, charming | Grande sonate, Op. 92: Rondo - Con grazia |
| leggiero oder leggierissimo | mit Leichtigkeit oder mit gröster Leichtigkeit | with ease or with great ease | Johann Nepomuk Hummel - Piano Concerto No. 3, Op. 89 (1819) |
| scherzando | scherzend, tändelnd | joking, trifling | Trio in G Major, Op. 35: III. Rondo. Vivace e scherzando |
| risoluto | entschlossen, kräftig | determined, vigorous | Violin Concerto in G major |